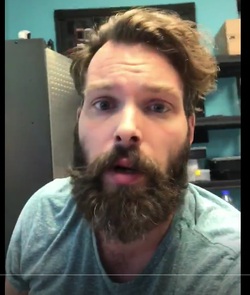 - Do not go or refer customers to 434 Westmount ave. in sudbury
- Harassment (see pics taken below)
- Physical threats (see pics taken below)
- Promotes violence towards others
- Lies about installed parts quality
- Try's to claim other's property as his. Then deletes the video to hide his lie's (I have the video by the way Jamie. You can't delete what you post on the internet you should know that.) Bad mouths Flour Mill and Donovan area like he think's he is better then the people who live there.
- Uses fear tactics any chance he can using false information.
- Has police file and told by the police to stay away from other shop owners.
---

- Site of name fraud on westmount ave. in sudbury recently changed his name to Jamie's phone repair which is a complete rip off of Mobile Phone Repair AGAIN.
- Constantly lies and bad mouths, threatens others.
- Closed most of the day. CLOSED SATURDAY - SUNDAY. NOT OPEN UNTIL 10:30 - NOON during weekday's.
- Named his business the exact same as someone else's website. Tries to claim the website's are his without proof. Get's angry when confronted by customer's about it as he is purposely trying to confuse and trick them. Delete's the video he posted claiming it was his name.
- Recently changed his business name from Irepair (December 2017) to hide his criminal way's to Jamie's phone repair which is again a complete rip off of Mobile phone repair which has been operating since 2008 and he is AGAIN trying to confuse people.



---
I AM KARMA!!! AND I HAVE AWOKEN FROM MY SLUMBER. I CAN ONLY BE PUT BACK TO SLEEP WITH A LONG, DETAILED APOLOGY VIDEO CONFESSING YOUR SINS OR WHAT YOU SEEK IF YOU TRULY WANT, MAKE PAYMENT TO KARMA TO RETURN ME TO SLEEP.
TEXT WILL BE REMOVED AND VIDEO WILL REMAIN ON THIS PAGE FOR 1 YEAR!!!!
I WILL BE RE-AWOKEN IF SAID VIDEO IS REMOVED AND/OR UNPINNED FROM THE TOP OF YOUR FACEBOOK PAGE EVER!!!!

KARMA GROWS WRESTLES WITHOUT POSTED APOLOGY!!!!!!!!!!!!
NEW ABUSE KNOWLEDGE WILL BE POSTED. IF YOU SUPPORT WORKPLACE HARASSMENT AND ABUSE PREPARE TO BE EXPOSED!!!!
KARMA KRAVES NEW ABUSE KNOWLEDGE AND EXPOSURE! TIMER WILL RESET AND ANOTHER NUMBER WILL BE ADDED!!!!!
THE LONGER KARMA IS AWOKEN THE MORE I SPREAD TO HIGHER RANKING WEBSITES, ABOUT YOUR PHYSICAL THREATS, ABUSE, AND SLANDER AND LIES TOWARDS OTHERS!!!!!


1. (posted November 2017)irepair trademark is owned by a cabling company in Toronto. Jamie you do not own the rights in anyway to the irepair name. Therefore you have no right to dictate what is done with the name let alone even run a business using it. The real trademark holders of irepair have been contacted and their lawyers representing them. They will not want to be associated with someone who spouts and encourages physical threats and abuse. Domain ownership is 100% legal in canada see thebrick.ca vs thebrick.com2.(posted November 2017) IF YOU ARE THE PROPER OWNER OF THESE DOMAINS THEN YOU WILL BE ABLE TO PROVIDE THE MISSING NUMBERS, EMAIL ADDRESSES, NAME ETC. ON YOUR FACEBOOK PAGE FROM THIS RENEWAL RECEIPT FROM 2011. PROVE TO KARMA YOU ARE THE RIGHTFUL OWNER OR CONFESS TO YOUR SINS. Nobody knew you even existed in 2010. You posted yourself you thought of starting your business in 2011. This name was not even a thought in your head.
3. Tick Tock it is 9 o'clock. You are watching TV and other's are out fixing phones. Blame other's for not paying small business loan and rent? It is your fault! Closed on weekend's during December? What if you needed warranty work!!! Not open until 10:30am closed at 6pm on weekdays. Lol others are working hard all the time and are there for the customers ALL the time.
4. DO YOU LIKE GETTING TOLD THAT YOUR REPLACEMENT SCREEN IS THE BEST. BUT YOU ARE ACTUALLY GETTING BOTTOM OF THE BARREL GARBAGE. GO TO IREPAIR ON WESTMOUNT. HE INSTALLS THE CHEAPEST SCREENS POSSIBLE. ASK HIS X EMPLOYEES. THE OTHER SHOPS IN TOWN GET LOTS OF CUSTOMERS FROM IREPAIR ABOUT DEFECTIVE SCREENS, TAKING HOURS OR DAYS TO GET THERE DEVICE BACK AND MISSING PARTS INSIDE THE PHONE.
RIP OFF ARTIST ON WESTMOUNT AT FALSELY NAMED IREPAIR SHOP. CHEAP PARTS. LIES TO CUSTOMERS. SPENDS BANK LOAN TO USE AND SPREAD FEAR TACTICS ON CUSTOMERS. 100% SHADY. CLAIMS TO BE SOMEONE HE IS NOT. DANGER TO YOU AND YOUR PERSONAL INFORMATION. 434 WESTMOUNT AVE.

Has police file about and has been warned not to stalk and harass other shop owners. He calls, texts, and messages repeatedly on facebook to the point the LAW had to be involved. Jamie Ansara you can get the police file at the police station.
(posted november 2017)PHONE REPAIR SHOP LOCATED BEHIND THE KEG AT 434 WESTMOUNT AVE #5B PH# 705 207 4349 IREPAIR SUDBURY AND CUSTOMIZATION IN SUDBURY ONTARIO ALSO OWNER OF IREPAIR TIMMINS AT 43 CEDAR STREET SOUTH 705 262 1533 WANTS TO CAUSE PHYSICAL HARM TO FORMER EMPLOYEES AND COMPETING BUSINESSES IN THE AREA.

HE ENCOURAGES PEOPLE TO GO TO A HOME AND CAUSE PHYSICAL HARM TO SOMEONE WHERE THERE ARE CHILDREN THERE ALSO.


ALL OF THE OTHER LOCAL AND SUDBURY RAISED SHOP OWNERS ARE TIRED OF YOUR CONSTANT SLANDER AND LIES ABOUT US FOR THE PAST 4 YEARS. RIGHT OFF THE GET GO YOUR BUSINESS PLAN WAS TO SLANDER LOCAL BUSINESS ANY CHANCE YOU HAVE AND TO USE FEAR TACTICS WITH YOUR CUSTOMERS. AND WE HAVE 4 YEARS OF PROOF.


THIS IS ALL OVER A WEBSITE DOMAIN HE DOES NOT OWN AND DID NOT HAVE A BUSINESS NAMED IPHONE REPAIR OR IREPAIR WHEN IT WAS PURCHASED.

JAMIE IF YOU DID OWN THOSE DOMAIN NAMES WOULD YOUR WEBSITE INFO ETC. NOT BE ON IT. HOW CAN SOMEONE ELSE STEAL A DOMAIN NAME YOU NEVER OWNED.

THE OWNER OF THESE DOMAINS HAS HAD THEM BEFORE YOU EVER HAD A STORE IN THE FIRST PLACE.


ITS NOT THAT HARD TO PICK UP THE PHONE OR EMAIL SOMEONE.


JAMIE HAS A HISTORY OF THIS AND BAD MOUTHING OTHER RETAILERS.


WHEN HE FIRST OPENED IN SUDBURY HE SPENT ALLOT OF MONEY AND TIME WRITING FAKE REVIEWS ABOUT BUTLER'S COMMUNICATIONS CALLING HIM PROFANITY'S ETC. AND ENCOURAGING HIS CUSTOMERS TO DO SO.


BUTLERS IS STILL RUNNING VERY STRONG.


ENOUGH IS ENOUGH. WE WILL NO LONGER PUT UP WITH YOUR UNPROFESSIONAL WAYS OF RUNNING A BUSINESS.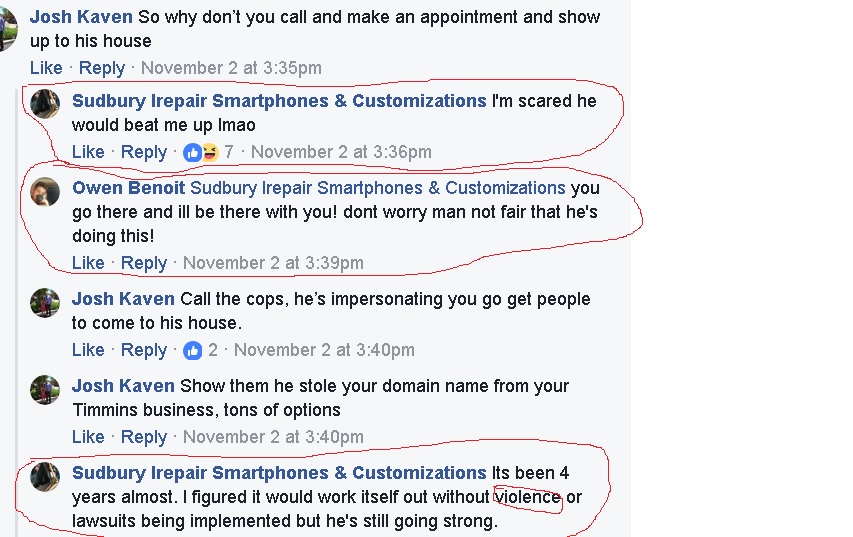 DELETES ANY COMMENTS FROM FACEBOOK USERS THAT CONTRADICT WHAT HE IS SAYING. THERE WHERE LOT"S POSTED BUT JAMIE LIKES TO TWIST WHAT IS REALLY GOING ON. LIES TO SUDBURY RESIDENTS. Cindy's comments where removed along with many other.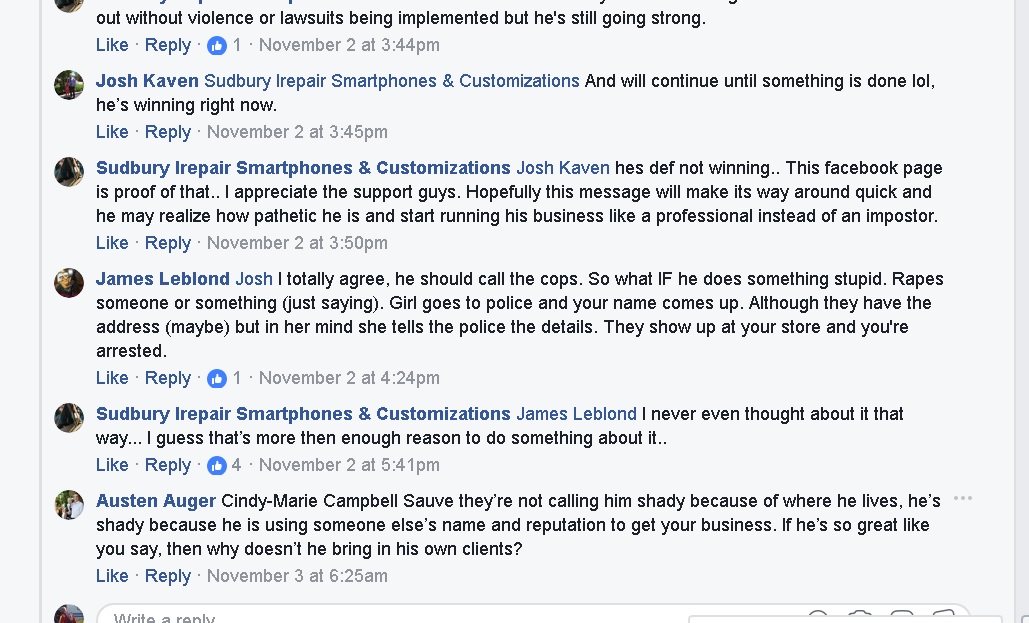 IS THIS WHAT YOU WANT IN SUDBURY. POSSIBLY WORKING WITH YOUR CHILDREN IN THE FUTURE. HE WANT'S TO BREAK THE LEGS OF 2 OF HIS FORMER EMPLOYEES. THESE ARE YOUNG MEN WHO HAVE LIVED IN SUDBURY THERE ENTIRE LIVES.


OBVIOUSLY THERE IS A REASON THEY BOTH QUIT WITHOUT NOTICE AND LEFT THE STORE LOCKED FOR A FEW DAYS. PEOPLE IN POWER NEED TO LEAD BY EXAMPLE. WITH THE CONSTANT ACCUSATIONS OF PEOPLE IN POWER LIKE IN HOLLYWOOD CAN WE REALLY TRUST SUCH A CHARACTER.


WHAT WE SHOULD SUPPORT IS BUSINESSES THAT SUPPORT EACH OTHER. THERE ARE SEVERAL OF THEM IN TOWN WHO SEND EACH OTHER BUSINESS AS EITHER THEY ARE TO BUSY OR UNABLE TO DO THE TASK AT HAND AND HELP THE CUSTOMER OUT INSTEAD OF JUST TELLING THEM TO FIGURE IT OUT ON THERE OWN.

THESE BUSINESSES THAT WORK TOGETHER AND ARE PROFESSIONAL ARE LOCATED IN THE FLOUR MILL ON LESLIE STREET, ON LASALLE, ON SOMERSET ROAD, ON THE KINGSWAY. THESE ARE BUSINESSES THAT HAVE A POSITIVE IMPACT ON THE RETAIL SPACE, POPULATION, AND FUTURE EMPLOYEES OF SUDBURY.


IT IS NOT JUST ABOUT YOU. YOU CANNOT, NEVER HAD, AND NEVER WILL HAVE ALL OF THE POSSIBLE CUSTOMERS.


WORK ON YOUR CRAFT INSTEAD OF SPREADING FEAR TACTICS TO GET CUSTOMERS. PATHETIC.